Tie Dye Sensual Smokes
$

18.00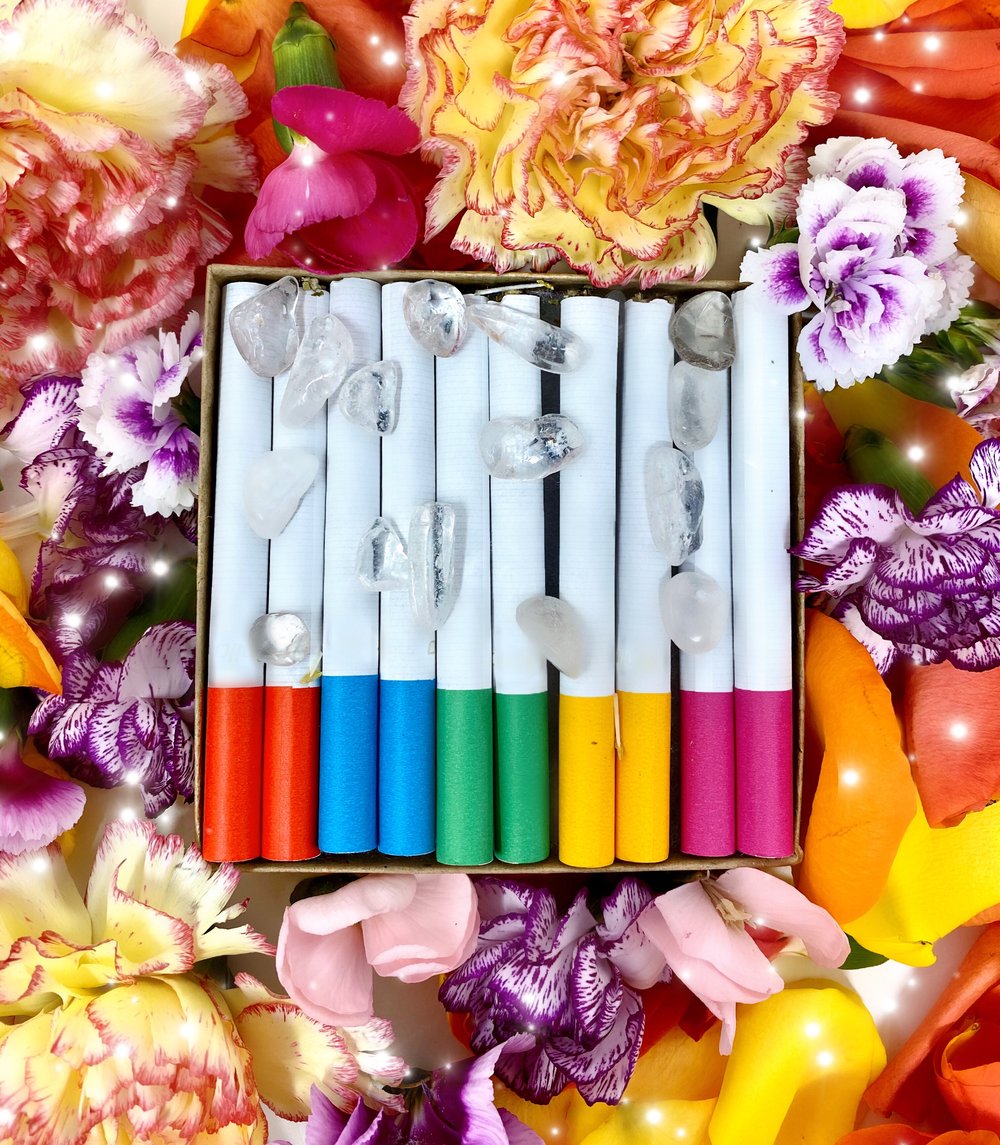 ✨ Our Sensual Smokes have a new look! We've kept the blend the same and added clear quartz chips so your rolls will arrive crystal infused, cleansed, and ready to smoke. ✨
As always, Garden Fairy Co. herbal pre-rolls are non-tobacco, additive free, and are made of completely natural and organic herbs. These Sensual Smokes are comprised of rose petals, damiana, dandelion, nettle, mullein, coltsfoot, and lobelia. They are even smoother than the original dream blend and increase libido! Yay for sacred sensuality! Each pre-roll is a work of art. ✨
Ingredients and benefits:
✶ ROSE PETALS - are an important ingredient in a number of ayurvedic preparations and adds a wonderful flavor to the pre-roll. In the Tarot the rose is considered a symbol of balance. It expresses promise, new beginnings, and hope.
✶ DAMIANA - anti-anxiety + is an aphrodisiac (meaning it will *put you in the mood!*).
✶ DANDELION - can be used as a pain killer and very mild diuretic (can promote weight loss).
✶ NETTLE - the leaves and stems of nettle have been used historically to treat arthritis and for sore muscles.
✶ MULLEIN - if you're someone that struggles with anxiety or just needs something to gently calm restless feeling at the end of the day, Mullein will be your rescue.
✶ COLTSFOOT - have allergies, a cough/cold, or have a stuffy nose/throat/lungs? Coltsfoot will rescue you, and clear you right up.
✶ LOBELIA - was used by Native Americans to treat body aches, sores, and bee stings.
Important Notes (PLEASE READ!):
✵ Once your shipping label has been created you will receive an email from USPS which includes your tracking number.
✵ Please keep in mind that this product is completely HANDMADE and naturally grown from the garden. Therefore, pre-rolls cannot be pumped out and shipped next day as if they were manufactured. Our product is specially created with LOVE.
✵ Garden Fairy Co. is not responsible after proof of shipment.
You must be 18 years or older to purchase this product. This product hasn't been evaluated by the FDA. It is not intended to diagnose, cure or prevent any disease. Consult your doctor before use or if you are on any medications, such as heart medications or diuretics. Do not use if you are pregnant or nursing. Smoking anything may be hazardous to your health. Do your own research to decide if this product is for you.
Share