DELTA 8 Vegan Gummies | $30 (Δ8THC)
$

0.01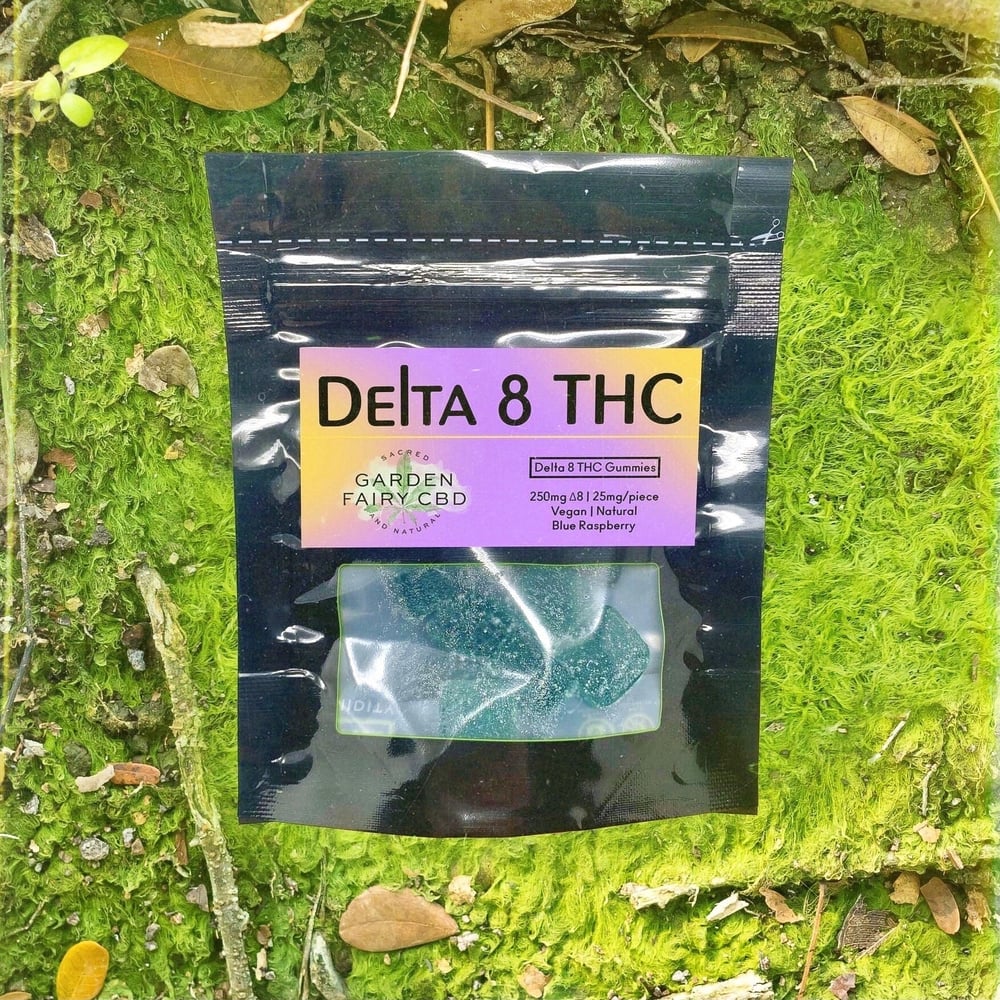 PLEASE READ BEFORE BUYING
𝗪𝗵𝗮𝘁 𝗶𝘀 𝗗𝗲𝗹𝘁𝗮 𝟴 𝗧𝗛𝗖?
Delta 8 THC (also referred to as D8, D8 THC, and Δ8) is a psychoactive cannabinoid derived from the hemp plant. The effects of D8 THC are comparable to its more widely recognized cannabis-derived cousin, D9 THC, but D8 THC is known to provide a calmer and more controlled experience. After using D8 THC you can expect to experience anti-nausea, anti-anxiety, appetite-stimulating, mood-boosting and euphoric effects.
Garden Fairy CBD Delta 8 Gummies have absolutely zero artificial colors or flavors. There are 10 gummies per container.
Flavor: Blue Raspberry
Dosage: Each gummy is 25mg D8 THC which is 1 dose. Start there and eat more if necessary.
* Delta 8 THC is LEGAL! It falls into a grey area, making it federally legal under the 2018 Farm Bill.
* D8 CAN show up on a drug test.
* Do not drive or operate machinery after using a Delta 8 products.
* Free from contaminants such as vitamin e acetate
* We supply you with test results for transparency!
You must be 18 years of age or older to purchase this listing. By viewing this listing, you agree that you are 18+ years of age.
_________________________________________________
(! IMPORTANT !) HOW TO ORDER:
PayPal, our form of payment processing, does not allow the sale of CBD. Therefore, this listing is only to collect your mailing information, not your payment.
1. Add this listing and anything else you want to your cart.
2. Check out on our website. Checking out on our website will give us your shipping information and shipping payment.
3. Pay for your CBD product
$30
through Venmo (@darbsbrown) or click https://venmo.com/code?user_id=2021913811484672917
In the notes, include your FIRST AND LAST NAME so I know who it is from.
4. Receive your CBD product(s) in the mail.
_________________________________________________
Not intended to diagnose, treat, cure, or prevent any diseases, conditions, or any other ailment.
Share