Creativettes | To Activate Your Creative Flow
$

19.50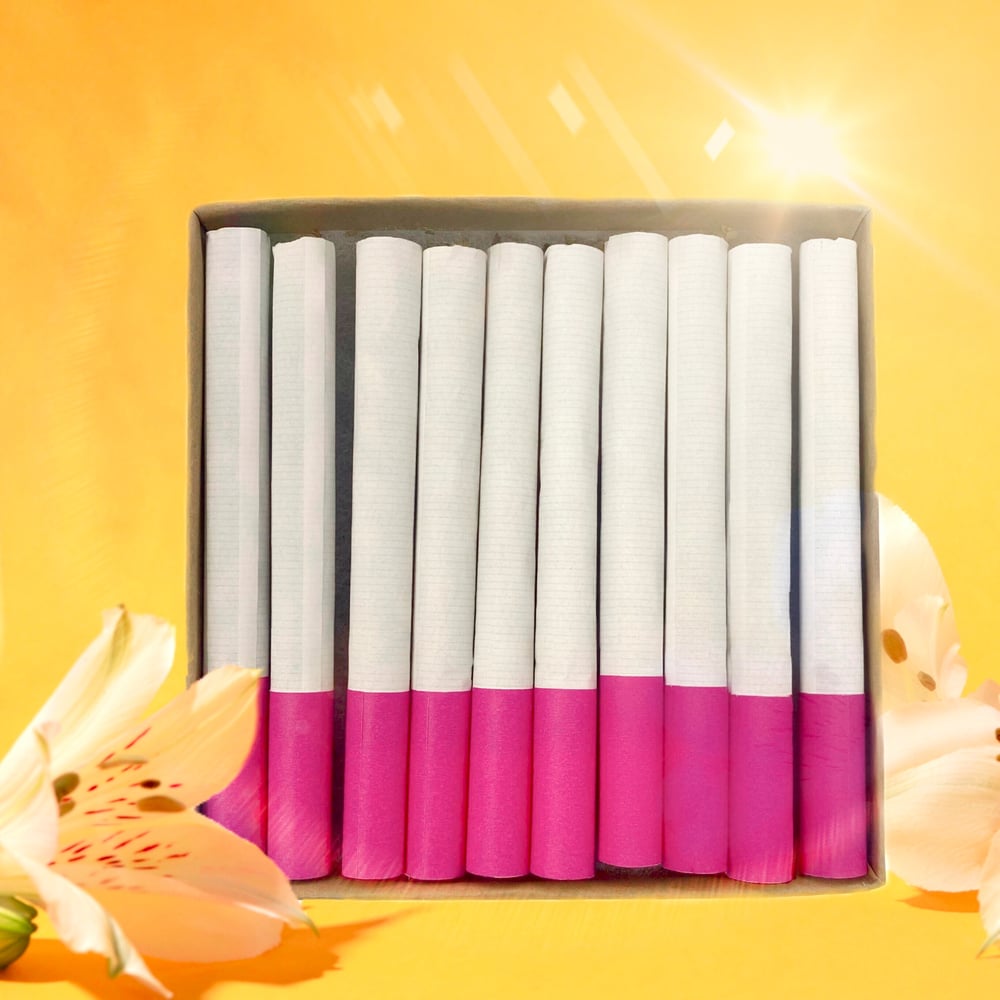 𝗙𝗟𝗔𝗩𝗢𝗥: 𝗢𝗥𝗔𝗡𝗚𝗘 𝗕𝗟𝗢𝗦𝗦𝗢𝗠 | 100% ORGANIC HERBS | ACTIVATE CREATIVE FLOW | REMOVE CREATIVE BLOCKS | COMMUNICATE WITH INTUITION | FIND YOUR AUTHENTICITY
The first of its kind. Creativettes are here to support you in all of your ingenious endeavors. This blend is made with a variety of sacred plant spirits that can invoke states of well-being, openness, gentle euphoria, and mental clarity -- perfect for when you are looking to find your creative flow state!
As always, Garden Fairy Co. herbal pre-rolls are non-tobacco, additive free, and are made of completely natural and organic herbs.
Ingredients and benefits
✶ Gotu Kola - aids memory and focus, prevents depression, provides non-jittery energy, encourages creativity
✶ Mullein - anxiety relief + encourages expectoration (respiratory system) + soothes throat
✶ Mugwort - colorful, vivid dreams + menstrual support
✶ Catnip - encourages flow state + relaxing effect
✶ Blue Lotus - extremely sacred + supports natural sense of well-being + helps depression + aids memory
✶ Wild Dagga - gently euphoric + mental clarity
✶ Wormwood - anxiety relief + aphrodisiac
Disclaimer
You must be 18 years or older to purchase this product. By purchasing this product you submit that you are over the age of 18. This product hasn't been evaluated by the FDA. It is not intended to diagnose, cure or prevent any disease. Do not operate a vehicle or heavy machinery after using this product. Consult your doctor before use or if you are on any medications, such as heart medications or diuretics. Do not use if you are pregnant or nursing. Smoking anything may be hazardous to your health. Do your own research to decide if this product is for you. Garden Fairy Co. is not responsible after proof of shipment. This variety of Garden Fairy Co. herbal pre-rolls is flavor enhanced using all natural flavors within filters.
Share