The Wonder Box III: 𝙏𝙝𝙚 𝙂𝙁𝘾 𝙁𝙖𝙫𝙤𝙧𝙞𝙩𝙚𝙨 𝘽𝙤𝙭
$

49.49 On Sale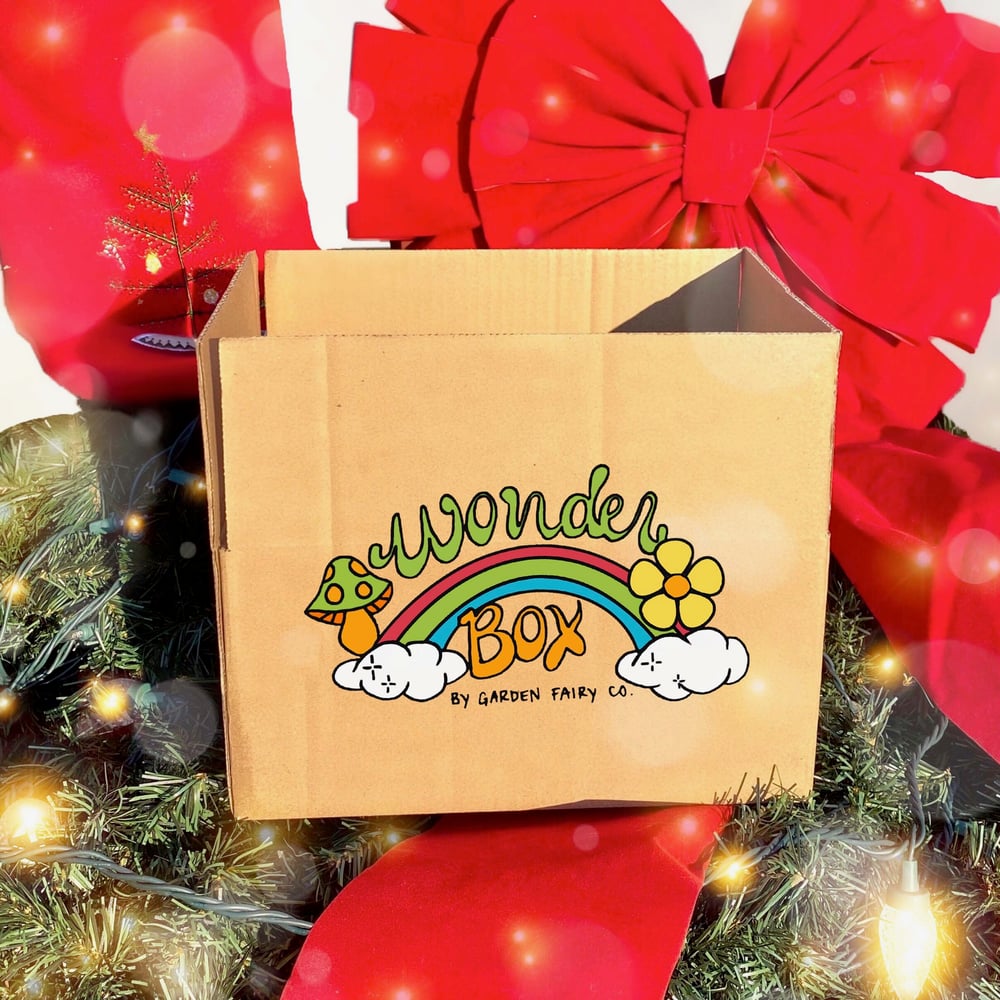 VALUE: $136.00
Introducing The Wonder Box III: Holiday Edition. The Wonder Box is a spectacular high-value, low-cost Garden Fairy Co. mystery box that you won't want to miss. Our third edition was curated with the holidays in mind, making it a fantastic gift!
𝐁𝐞𝐜𝐨𝐦𝐞 𝐚 𝐜𝐞𝐫𝐭𝐢𝐟𝐢𝐞𝐝 𝐆𝐚𝐫𝐝𝐞𝐧 𝐅𝐚𝐢𝐫𝐲! Purchase this listing and you will receive 𝙏𝙝𝙚 𝙂𝙖𝙧𝙙𝙚𝙣 𝙁𝙖𝙞𝙧𝙮 𝙁𝙖𝙫𝙤𝙧𝙞𝙩𝙚𝙨 𝘽𝙤𝙭 full of never-before-seen products. From products you know and love to unreleased items, this box is extraordinary. As part of the GFC Community you'll be equipped with everything you need to live life as a Certified Garden Fairy.
Note: At Garden Fairy Co., we truly value educational content. That's why your box will come with information on the what, how, and why behind each product.
Unlike mystery Wonder Boxes we've offered in the past, we are going to tell you most of the products are in this edition. We know that a lot of Fairies will be gifting these boxes to their loved ones for the holidays and we want you to be 100% certain they will love every product (we know they will!).
Here's what 𝙏𝙝𝙚 𝙂𝙖𝙧𝙙𝙚𝙣 𝙁𝙖𝙞𝙧𝙮 𝙁𝙖𝙫𝙤𝙧𝙞𝙩𝙚𝙨 𝘽𝙤𝙭 contains:
❋ Juniper Smoke Cleansing Stick. This organically grown, sustainably harvested smoke cleansing stick has never been sold in the shop because we wanted to save it just for this box. Perfect for the new year, Juniper is great for when you want to "press the reset button." Its scent is crisp and lemony, and it reminds us of Christmas.
❋ A Hand-Painted Rose Quartz Geode Bath Bomb. Infused with pure grade Jasmine and Ylang Ylang essential oils.
❋ Garden Fairy Co. Pre-Roll Kit. This kit is equipped with two of every pre-roll we offer which make it especially great for the Fairy who wants to try everything.
❋ Garden Fairy Co.'s Best-Selling Gaia Goddess Portable CBD Cream. This product is infused with 1,000 mg (!) of CO2 extracted CBD, perfect for moisturizing the skin and calming aches and pains. Created with organic, high grade lavender and rosemary essential oils.
❋ MOMO CBD COCONUT LIP BLISS. Our brand feature of the month! Our Coconut Lip BLISS is a Deep Moisturizing Lip Balm with Full Spectrum Hemp-derived CBD. Ethically traded, vegan, pure BLISS for your lips.
❋ Whipped Coconut Milk Amethyst Sugar Scrub. Inspired by the healing benefits of amethyst, this lavender and neroli scented whipped sugar scrub is to die for!
❋ A 6" Ritual Candle. (The color and magickal benefit is a mystery!)
❋ Ritual Candle Holder.
❋ An official Garden Fairy Community Member Certificate. Hang this item where you can see it to be reminded of what we Fairies stand for.
❋ Exclusive sticker, made just for𝙏𝙝𝙚 𝙂𝙖𝙧𝙙𝙚𝙣 𝙁𝙖𝙞𝙧𝙮 𝙁𝙖𝙫𝙤𝙧𝙞𝙩𝙚𝙨 𝘽𝙤𝙭
❋ A special intuitive message from Darby
❋ Super secret discount codes for future orders, accessible only to Garden Fairy members.
❋ FREE SHIPPING + guaranteed ship date
IMPORTANT NOTES:
*All boxes start shipping ship December 13 and is guaranteed to arrive before the holidays.
*Discount codes MAY NOT be used on this product. If you use a discount code you will be refunded and you will not be able to receive this month's box.
*Tracking will be sent to your email. This product can be shipped internationally but shipping fees apply (for international customers only). Vegan and cruelty free, always. Packaging may vary.
_______________________________________________________
𝐆𝐅𝐂 𝐌𝐄𝐌𝐁𝐄𝐑𝐒𝐇𝐈𝐏 - 𝐖𝐡𝐚𝐭 𝐝𝐨𝐞𝐬 𝐢𝐭 𝐦𝐞𝐚𝐧 𝐭𝐨 𝐛𝐞 𝐚 𝐆𝐚𝐫𝐝𝐞𝐧 𝐅𝐚𝐢𝐫𝐲?
Joy. Peace. Pleasure. Bliss. Love. Unity. These are words that Garden Fairies seek. Garden Fairies embody the connection of loving kindness + fiercely strong women (and men, and non-binary people!). They're cunning and curious, open-minded, are ever evolving and stand up for what's right, always. A Garden Fairy's spirit is bright and they desire a deep connection and peace with oneself and others. They've always felt a connection to nature and have a heart of gratitude. The GFC membership is a community of light beings dedicated to blossoming into the most badass, kind, and dazzling versions of themselves.
Share