The Wonder Box III: 𝚃𝚑𝚎 𝚂𝚙𝚒𝚛𝚒𝚝𝚞𝚊𝚕𝚒𝚝𝚢 𝙱𝚘𝚡
$

59.00 On Sale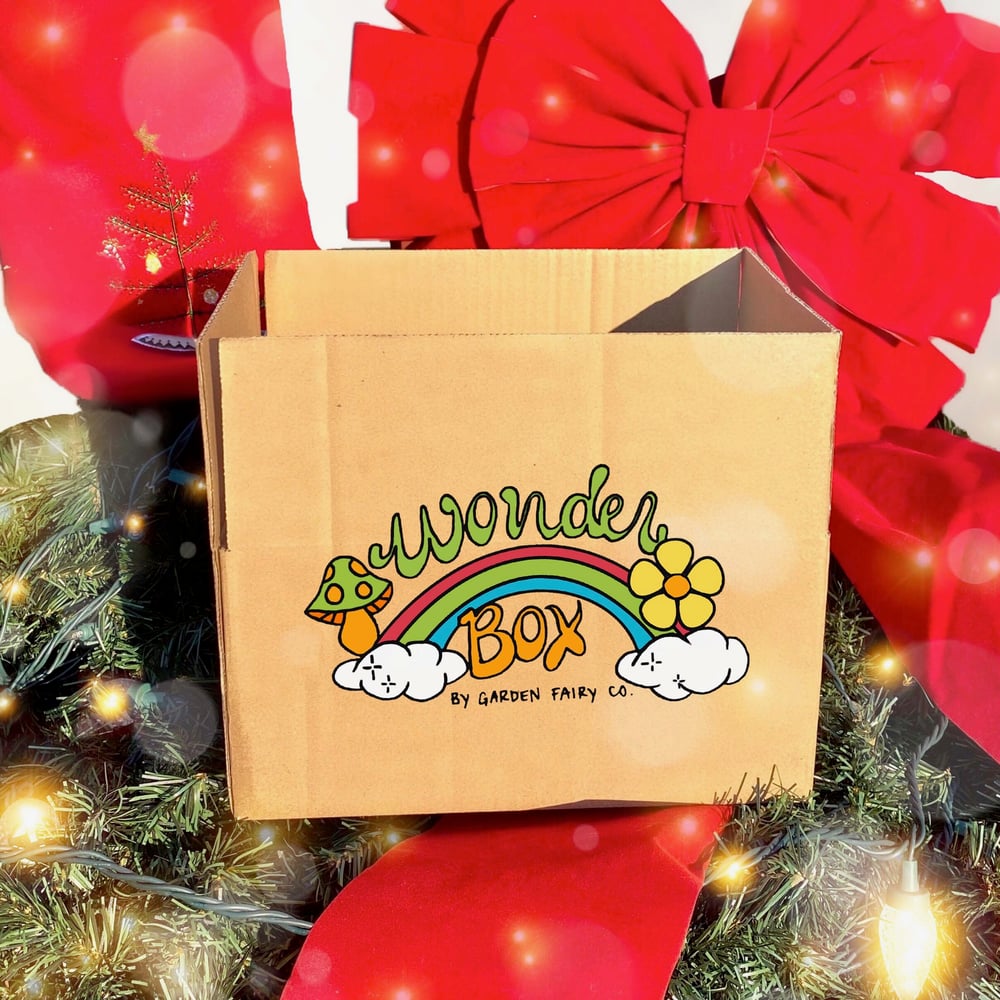 VALUE: $150.00
Introducing The Wonder Box III: Holiday Edition. The Wonder Box is a spectacular high-value, low-cost Garden Fairy Co. mystery box that you won't want to miss. Our third edition was curated with the holidays in mind, making it a fantastic gift!
𝐁𝐞𝐜𝐨𝐦𝐞 𝐚 𝐜𝐞𝐫𝐭𝐢𝐟𝐢𝐞𝐝 𝐆𝐚𝐫𝐝𝐞𝐧 𝐅𝐚𝐢𝐫𝐲! Purchase this listing and you will receive 𝚃𝚑𝚎 𝚂𝚙𝚒𝚛𝚒𝚝𝚞𝚊𝚕𝚒𝚝𝚢 𝙱𝚘𝚡, full of never-before-seen products. Curated by an experienced spiritualist, this box is full of many of the items that have advanced Darby's spiritual journey. Our highest hope is that you'll use these goodies to connect to higher planes, too.
Note: At Garden Fairy Co., we value educational content. That's why your box will come with information on the how, why, and what behind each product.
Unlike mystery Wonder Boxes we've offered in the past, we are going to tell you most of the products are in this edition. We know that a lot of Fairies will be gifting these boxes to their loved ones for the holidays and we want you to be 100% certain they will love every product (we know they will!). This box is a doozy, it's got tons of great items.
Here's what 𝚃𝚑𝚎 𝚂𝚙𝚒𝚛𝚒𝚝𝚞𝚊𝚕𝚒𝚝𝚢 𝙱𝚘𝚡 contains:
❋ A Thai Crystal Deodorant Stone. Throughout my spiritual journey I have learned that treating my body with respect is so important, and what we put on our body matters. Mainstream deodorants include harmful, cancer causing ingredients like aluminum, parabens, triclosan, phthalates, and propylene glycol. This Crystal Deodorant Stone is our favorite natural alternative, and we'll teach you why. You'll learn more about this later.
❋ Garden Fairy Co.'s Synchronicity Tracker Journal. We've heard of dream journals to heighten our dream experience, yes? Garden Fairy Co. has created a Synchronicity Tracker to help you tune into synchronicities + your Spirit Guides! Plus, we'll include education content about what the world synchronicity is all about.
❋ An Acupressure Ring. This ring packs a punch! And it's a great introduction to the world of reflexology and acupressure. If you are on your phone/computer frequently, you MUST have one of these!
❋ MOMO BEAN TO BLISS BAR. Momo CBD is our brand feature of the month! Cacao opens your heart, heightens meditation, enhances mood, and more. Plus, these delightfully luscious squares are infused with 40mg of hand-crafted full spectrum hemp CBD and are ethically sourced, sustainably harvested, plant based and non-GMO. We have 4 different flavors - which one will you receive?
❋ Darby's most favorite-est incense. I've tried MANY over the years, and nothin' beats this one!
❋ Star & Moon Incense Ash Catcher.
❋ A Healing Bath Kit. This kit includes our handmade bath salt potion, a chime candle, a candle holder, and instructions to have your own healing ritual at home.
❋ A Premium Rose Quartz Pendulum, plus a guide on divination and how to use it.
❋ An 8"x12" Pendulum Map to interpret your answers.
❋ A Chakra Gemstone Bracelet. Handmade, fair trade with the intention to align your chakra energy centers.
❋ Peridot Chip Necklace, for heart opening experiences.
❋ Exclusive sticker, made just for 𝚃𝚑𝚎 𝚂𝚙𝚒𝚛𝚒𝚝𝚞𝚊𝚕𝚒𝚝𝚢 𝙱𝚘𝚡
❋ A special intuitive message from Darby
❋ Super secret discount codes for future orders, accessible only to Garden Fairy members.
❋ FREE SHIPPING + guaranteed ship date
IMPORTANT NOTES:
*All boxes start shipping ship December 13 and is guaranteed to arrive before the holidays.
*Discount codes MAY NOT be used on this product. If you use a discount code you will be refunded and you will not be able to receive this month's box.
*Tracking will be sent to your email. This product can be shipped internationally but shipping fees apply (for international customers only). Vegan and cruelty free, always. Packaging may vary.
_______________________________________________________
𝐆𝐅𝐂 𝐌𝐄𝐌𝐁𝐄𝐑𝐒𝐇𝐈𝐏 - 𝐖𝐡𝐚𝐭 𝐝𝐨𝐞𝐬 𝐢𝐭 𝐦𝐞𝐚𝐧 𝐭𝐨 𝐛𝐞 𝐚 𝐆𝐚𝐫𝐝𝐞𝐧 𝐅𝐚𝐢𝐫𝐲?
Joy. Peace. Pleasure. Bliss. Love. Unity. These are words that Garden Fairies seek. Garden Fairies embody the connection of loving kindness + fiercely strong women (and men, and non-binary people!). They're cunning and curious, open-minded, are ever evolving and stand up for what's right, always. A Garden Fairy's spirit is bright and they desire a deep connection and peace with oneself and others. They've always felt a connection to nature and have a heart of gratitude. The GFC membership is a community of light beings dedicated to blossoming into the most badass, kind, and dazzling versions of themselves.
Share