The Wonder Box III: ᴛʜᴇ ʜᴇʀʙᴀʟisᴍ ʙᴏx
$

65.00 On Sale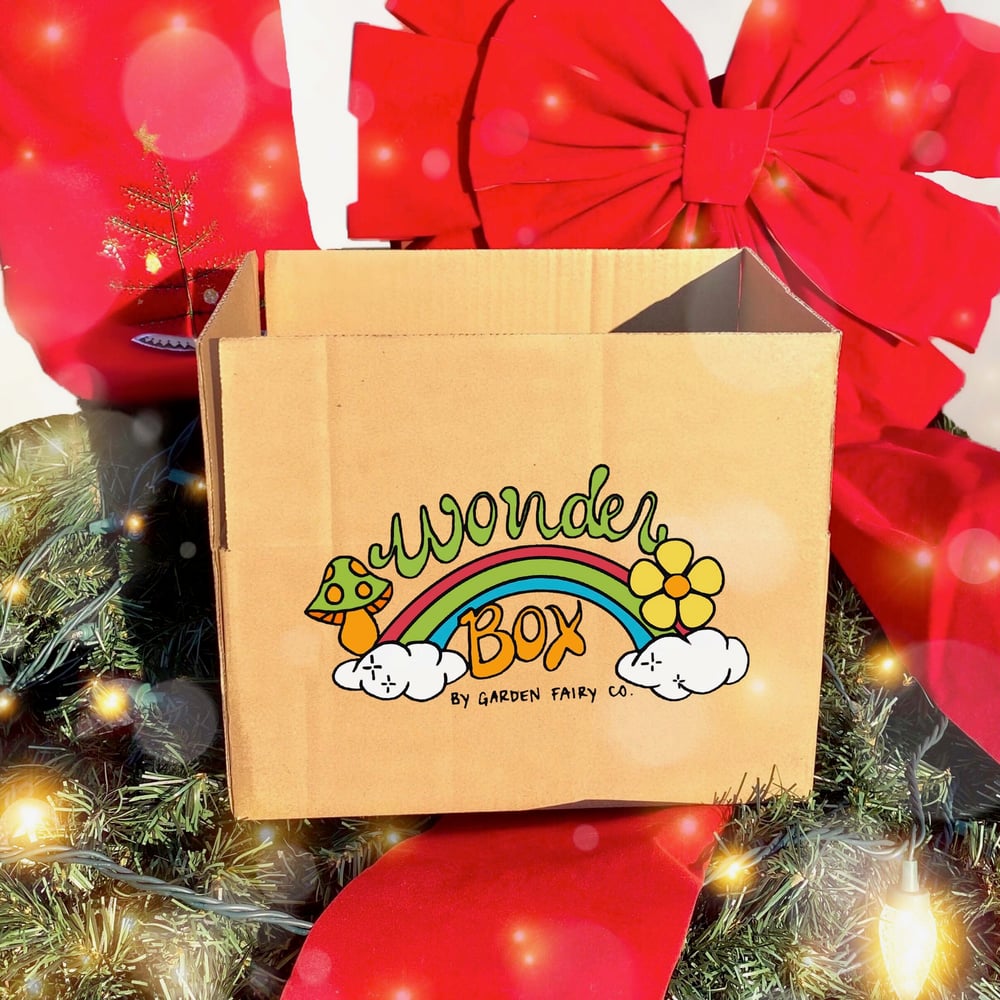 VALUE: $149
Introducing The Wonder Box III: Holiday Edition. The Wonder Box is a spectacular high-value, low-cost Garden Fairy Co. mystery box that you won't want to miss. Our third edition was curated with the holidays in mind, making it a fantastic gift!
𝐁𝐞𝐜𝐨𝐦𝐞 𝐚 𝐜𝐞𝐫𝐭𝐢𝐟𝐢𝐞𝐝 𝐆𝐚𝐫𝐝𝐞𝐧 𝐅𝐚𝐢𝐫𝐲! Purchase this listing and you will receive ᴛʜᴇ ʜᴇʀʙᴀʟɪsᴍ ʙᴏx, full of never-before-seen products. Whether you're a seasoned herbalist or herbs have just recently sparked your interest, you will love this box. At home, you'll learn from educational content written by Darby, have hands on practice with the plethora of herbalism goodies and tools, and you'll be wow'ed by the variety of unique items! Every box is carefully curated just for you.
Unlike mystery Wonder Boxes we've offered in the past, we are going to tell you most of the products are in this edition. We know that a lot of Fairies will be gifting these boxes to their loved ones for the holidays and we want you to be 100% certain they will love every product (we know they will!).
Here's what ᴛʜᴇ ʜᴇʀʙᴀʟɪsᴍ ʙᴏx contains:
❋ An exclusive herbalism Zine, written and illustrated by Darby. This professionally printed Zine details some herbalism beginner basics, tricks of the trade, DIY holistic practices, and more.
❋ Our best-selling Lavender Rose Pre-Rolls (Dream Blend).
❋ A DIY Elderberry Kit. Hone in on your master herbalist skills with this step-by-step guide and kit that includes everything you need to make your own Elderberry Syrup. Our organic, secret blend of herbs and spices has been formulated to perfection, the only thing missing is you! Elderberry is one of the most powerful botanicals you can work with; it's fantastic for boosting the immune system, major cold and flu relief, enhancing heart health, and more. You'll want to have this on-hand this winter. Kit includes 100 grams of our secret formula (ingredients listed on bag), cheesecloth, and receptacle. Can produce approx. 24 oz of syrup.
❋ A Garden Fairy Co. "Loving Awareness" 16 oz. Mason Jar. We designed this product for two reasons: 1. to store your amazing Elderberry Syrup. 2. As a mindfulness exercise. Every time you enjoy your favorite drink from your Loving Awareness Mason Jar, envision your human vessel being filled and blessed with compassionate love, light, and understanding. This visualization technique has been used for centuries.
❋ (5) Vials of Organic Herbs. We won't tell you just what herbs yet, but we narrowed down everything we know about herbalism to decide on what (5) herbs are best for beginners. Your zine will help you utilize these incredible herbs and plants in your own practice.
❋ Intention Teaz. This is a brand new product from GFC, created just for this box. Feeling anxious? Pick up the tea that has the label "For When You're Anxious." Are you super hungover, or have you been eating fast food a bit too much? We've got a tea for you, it's called the "I Need A Detox!" tea. Are you studying for an important test? Grab your tea labeled "Enhance My Memory." (plus others.) Intention Teaz is the greatest way to show you the magic of herbalism.
❋ Exclusive sticker, made just for ᴛʜᴇ ʜᴇʀʙᴀʟɪsᴍ ʙᴏx.
❋ A special intuitive message from Darby
❋ Super secret discount codes for future orders, accessible only to Garden Fairy members.
❋ FREE SHIPPING + guaranteed ship date
IMPORTANT NOTES:
*All boxes start shipping ship December 13 and is guaranteed to arrive before the holidays.
*Discount codes MAY NOT be used on this product. If you use a discount code you will be refunded and you will not be able to receive this month's box.
*Tracking will be sent to your email. This product can be shipped internationally but shipping fees apply (for international customers only). Vegan and cruelty free, always. Packaging may vary.
_______________________________________________________
𝐆𝐅𝐂 𝐌𝐄𝐌𝐁𝐄𝐑𝐒𝐇𝐈𝐏 - 𝐖𝐡𝐚𝐭 𝐝𝐨𝐞𝐬 𝐢𝐭 𝐦𝐞𝐚𝐧 𝐭𝐨 𝐛𝐞 𝐚 𝐆𝐚𝐫𝐝𝐞𝐧 𝐅𝐚𝐢𝐫𝐲?
Joy. Peace. Pleasure. Bliss. Love. Unity. These are words that Garden Fairies seek. Garden Fairies embody the connection of loving kindness + fiercely strong women (and men, and non-binary people!). They're cunning and curious, open-minded, are ever evolving and stand up for what's right, always. A Garden Fairy's spirit is bright and they desire a deep connection and peace with oneself and others. They've always felt a connection to nature and have a heart of gratitude. The GFC membership is a community of light beings dedicated to blossoming into the most badass, kind, and dazzling versions of themselves.
Share